History of Aikido Development in the USSR and Russia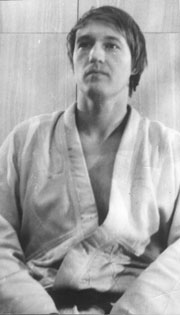 Though the history of Aikido in Russia is not so long, the number of person ready to disclose it in details and let the world know of the active part they played makes one to recollect the well-known story about Lenin carrying a log. The similarity may be noticed in the free interpretation of this event, beginning from the number of eager participants in the log transportation process and to the significance of their contribution to carrying over of the log, namely supporting its heavies part.
Pretentious as it may seem to someone who cannot agree with my interpretation or exposition of occurrences, nevertheless, as the fates decree, I turned out to be not only in the center of events associated with the origin and development of Aikido first in the USSR, then in Russia, but this history was created with my direct first-hand participation. To say the truth, I had heard many quite fantastic stories about events that had passed long ago, of which I actually had been an active participant. However, it seemed to me that the time to write the history of Aikido in our country did not come yet. Moreover, I did not feel myself fit enough to write something like memoirs. Many people said to me they were puzzled why, having witnessed occurrences and played an active part, I did not decide to describe them as they occurred in reality. I stubbornly said "no" once and again, because believed that the main thing is the actual deed, not any talks about it. I understood at last that, unfortunately, the truth can be hidden and facts perverted or misinterpreted, as the time went and some people who knew the truth and might confirm what was written or disagree with it passed away already. It was the last argument which prevailed and made me meet the challenge and try to narrate how we did it. I think it would be better to do it at present, when many witnesses and participants are still with us and any one of them may refute, in case they think I am wrong, and set forth their own version of events.
Underground
Only enthusiasm, thirst for knowledge, yearning to learn, to conceive, to know. We wanted to practice only for ourselves, and we were given the possibility to. Happy and carefree time!
Everyone who is studying Aikido is interested how it originated, was propagating in the world; to get this information, at present it would be enough to initiate data acquisition in Internet: it contains the rich bibliography. But Russian aikidoka's might be interested when and how Aikido came to Russia, and the natural question could arise: "Who was the first?"
We assumed that as the time went, there will emerge a lot of people willing to declare themselves as pioneers, and the more time elapsed and more participants and witnesses passed away the easier it would be. Having this in mind, we started to be engaged seriously in the analysis and the history: who actually was the first to practice Aikido in the USSR? We endeavoured to know and analyze all processes occurring both in large cities and small provincial towns, questioned foreigners about Russian people who were trained abroad.

It is quite possible that there were actually Russian people who lived abroad and studied there Aikido much earlier than we described here, but we know nothing about them. We know for certain that the first section, precisely a section, having arisen on the territory of the USSR, had been founded by Vladislav Alexeyevich Rukavishnikov. As a young teacher, he had been sent to Mali, where he got acquainted with Aikido and got interested in it. He was training in the section of Wan Bai sensei. Together with him, there were training two other Russians, but nothing was known about them after they returned to the homeland, if they continued their training or organized some group. But it was well known that in 1969 when Vladislav Alexeyevich returned to the USSR he founded the Aikido section.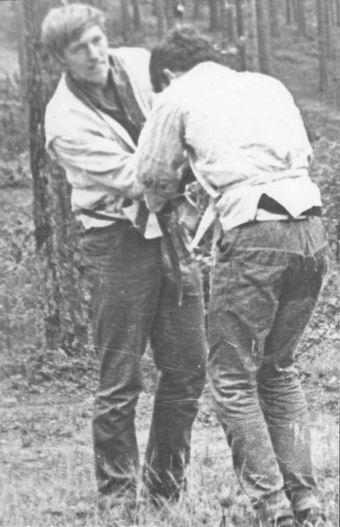 First aikidoka's were wonderful men! Brilliant, serious, profound: Alfat Makashev, Oleg Andreyev, colonel Lipovka. They could do very much for Aikido in Russia, but… Man proposes, God disposes. Only Alfat Makashev actually continued his activities in Aikido. Oleg Andreyev is now the director of the mill of microbiological fertilizers in Kolpino, Saint Petersburg. Colonel Lipovka is the professor of the Military Institute of Physical Culture. As the theme of his dissertation he took Aikido.

First I got to know about Aikido in the beginning of 1970s, from some book, and my first attempts to learn aikido techniques I made together with my friend Kostya Smirnov, at that time an actor of the Pushkin Theater. Now the Father Kostantin is the priest of the church on the Konyushennaya Square, where the funeral service for Alexander Pushkin was held. After Konstantin Smirnov, my aikido partner was my student whom I trained in sambo and judo Volodya Spirov. At present he is residing in London.

At the time, I was greatly interested in Kempo and loved to spar with Karate men when training. Thanks to my sparring partners I was permitted entrance into the Karate community, so some day in 1973 – 74 I met there Alfat Makashev. It was the most interesting person, a man of greatest erudition that was not given his due until now. In Saint Petersburg he is known as "the father of Eastern martial arts", the first trainer in Karate who brought up the whole galaxy of trainers and champions. Through him I made acquaintance with the group of Aikido practitioners studying Aikido in Leningrad under guidance of V.A. Rukavishnikov. We met from time to time, exchanged our experience. We saw then very interesting practical lessons conducted by a great expert of martial arts German Vasilievich Popov, when he came from Moscow. He practiced mainly arts of the Choi school, but showed many interesting Aikido techniques.


Of course, we were inventing a bicycle. But that incomparable joy of discovery! We dug very deeply and learned things we would never get know in the course of the conventional training.
It was conventional to believe that we were then poor orphans in Aikido, who were forced to study without foreign trainers. Nevertheless, when analyzing that period and assessing the present state of Aikido here, I became convinced more and more firmly that we were lucky in some special way. Yes, we had no Teachers enjoying indisputable authority, to be honored and obeyed implicitly, whose conception of Aikido must have been taken beyond any questions. But with them near us, we would be deprived of the possibility to do any serious and laborious creative work to find the truth, to disclose secrets of Aikido. By scrutiny of photos and pictures in books, we tried to conceive all small details of techniques basing on our knowledge and experience in Judo, Sambo, hand-to-hand fight and other martial arts. We tried a hundred or thousand times to carry out various versions of fight techniques, even the most ridiculous. This gave us the possibility to comprehend empirically and formulate by ourselves the basic principles on which Aikido is based, to find the key in techniques. Of course, we were inventing a bicycle. But that incomparable joy of discovery! We dug very deeply and learned things we would never get know in the course of the conventional training.

That was very happy time, pleasant to remember. And not only because we were young then. What a unsullied purity and care was typical of our relations! It was the mentally crystal pure Aikido, not fouled with intrigues, politics and efforts of self-affirmation at the cost of other people. We were then enraptured with new things we might perceive and master. We created then the atmosphere of free creation not bound by any conventionalities, self-interest, considerations for head's opinion or attained results that shall be stated in the trainers' reports. Then no organizational structure was formed officially, no administrative work was required. Only enthusiasm, thirst for knowledge, yearning to learn, to conceive, to know. We wanted to practice only for ourselves, and we were given the possibility to. Happy and carefree time!

In the mid-1980s, Aikido practitioners emerged in Moscow, Kiev, Rostov-on-Don and other regions. I am informed of the history of propagation of Aikido in every region, but I am of opinion that to write about it would not be correct. Otherwise it would be description of the Aikido development in each region. Possibly, I will describe it in details in the future.


On the way to official recognition of Aikido in the USSR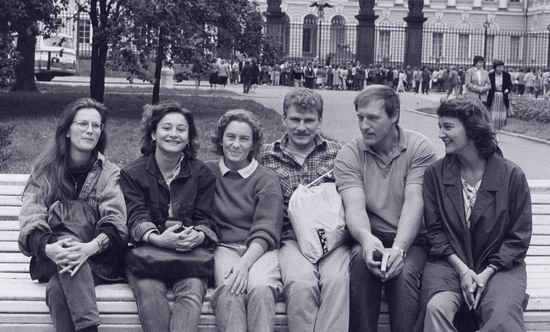 In the mid-1980s my Leningrad acquaintance was visited by his friends from Switzerland. Among them was the girl whose name was Karola. She was an Aikido practitioner and had the 1st Dan. I met them and talked Karola into a joint training.
I and Alfat decided to get well prepared and started to train the most complex combinations. However the girl asked as to show her only
ikkyo
. And all the time during the training we were performing only
ikkyo
. But what variety of techniques, movements and versions! But the most essential thing was that we began to comprehend the importance of
kihon
in learning of the Aikido techniques. For the first time we viewed the principles of teaching Aikido by Japanese trainers and many stretching exercises. It was my single meeting with Karola. Later on she sent me the Aikido textbook. This book was changed many hands and returned to me only after 15 years and only because it has a gift inscription.
In 1987 there was issued an official permission for me to teach Aikido "by way of an experiment".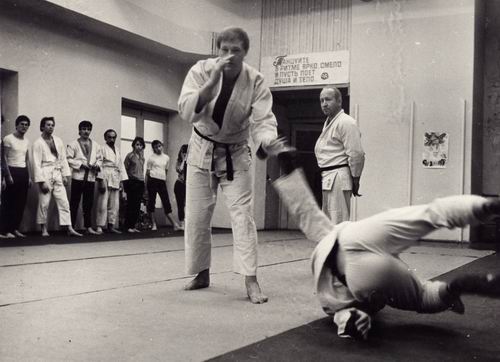 In the same year I was invited as a Aikido trainer to the cooperative Yuventus by
Yakov Borisovich Nikitin
established by him on the base of the Leningrad Pediatric Institute; in the next year I started to teach Aikido in other two gyms.
In 1988, the Aikido section was opened in Tikhvin. In 1989, under direction of
Vasily Yemelyanenko
, trainings began in a club founded by him, where was adopted the style Takemusu. From the first days, Vasily held tight contacts with Scandinavian aikidoka's, and because of this they progressed swiftly, without errors.
Our students began to open their sections. In the city were established a few clubs that gave us the possibility to found the Aikido Federation of Leningrad and the Leningrad region on January 07, 1989.
In 1988 in Moscow was convened a statutory conference with the purpose to establish the USSR Federation of Martial Arts, carry out revision and unite practitioners of Eastern martial arts, as well as ensure conditions for their further development and propagation.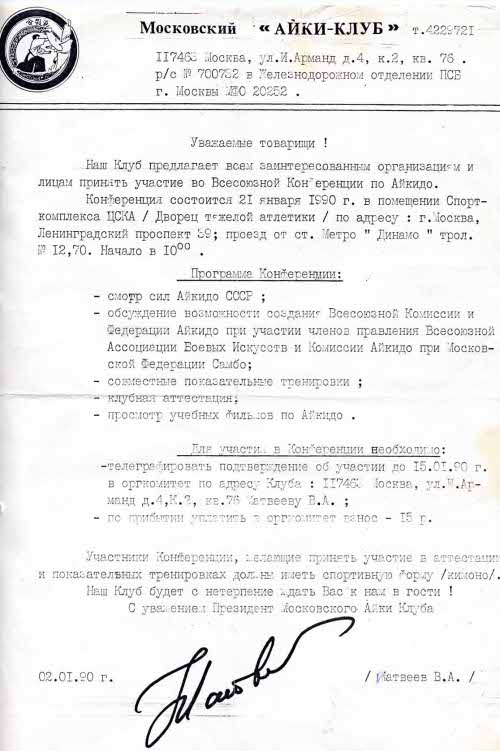 At this conference I met
Alexander Kachan
,
Ognyan Naidov-Zhelezov
and other Moscow people practicing Aikido. They maintained contacts with Aikikai Hombu Dojo. What is more, thanks to them, the Moscow University had accreditation in Aikikai Hombu Dojo. They also must have be given the full credit for Aikido having been included, in the course of preparation of this conference, into the list of Eastern martial arts practiced in the USSR as the art to enjoy full rights.
On January 21, 1990 in Moscow
Slava Matveyev
convened the first in the USSR All-Union Aikido seminar that gave the mighty impulse to propagation of Aikido in the USSR. Slava must be given the full credit for this event. There were invited Aikido practitioners from many republics, cities and towns of the USSR. To Moscow came people who founded the first Aikido sections in Ukraine, Belorussia, Azerbaijan, Uzbekistan, Kazakhstan, Estonia, Latvia, in the cities of Kursk, Novosibirsk, Vladikavkaz, Barnaul and many others that I unfortunately cannot mention here. The city of Leningrad was represented by the Aikido Federation of Leningrad and the Leningrad region.
This seminar was far from an official placid event, on the contrary, it was very dramatic happening, but in the result was created the All-Union Commission for Propagation of Aikido in the USSR led by the Head of the Administration of Martial Arts of Goskomsporta of the USSR
Yuri Alexeyenko
. In addition, this seminar helped to unite actually all Aikido practitioners in our country.
Since that time, there were started regular meetings, visits, joint training, festivals and other festivities, seminars that were held with participation of foreign specialists. The All-Union Commission begun to convene regularly conferences concerning various urgent matters, render assistance to actual Aikido practitioners.