Vladislav Rukavishnikov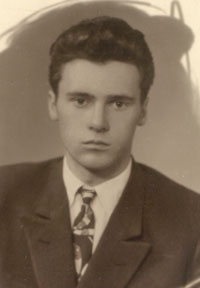 Secretary-General of International Euro-Asian Aikido Federation, awarded the national prize "Golden Belt" by the Russian Union of Martial Arts, 5th Dan Aikido Aikikai
Vladislav Alekseevich Rukavishnikov began his career in 1961, after he graduated from Leningrad Kalinin Polytechnical University. He was offered a prestigious job of a lecturer at the Department of structural resistance of Ulyanov Leningrad Electrotechnical Institute. His career went on smoothly. He improved his teaching skills, passed post-graduate exams, worked on his thesis and prepared for a study course in France. Rukavishnikov has started self-study training in French for the sake of that course. Once a representative of the Ministry of Higher and Specialized Secondary Education came to Vladislav Rukavishnikov from Moscow and announced that he "would get the study course in France any way round, but should first toil in the field of education in a developing country".

Thereby Vladislav Rukavishnikov found himself in Mali Republic and lectured technical subjects in Bamako National Engineering School from 1967 till 1969. In the evening the main Bamako entertainment was cinema. Cinema theatres were very plain and consisted of a fence, metal outdoor benches and a wall, which served as a screen. One ticket would enable to view two films. The first one was a melodrama, the second one was an action film. The latter was based on conflicts between Karate and Wu Shu schools and abounded in fighting. Actually, Karate and other oriental martial arts except for Judo had been banned in the USSR. Vladislav Rukavishnikov was deeply impressed with what he saw in the screen. He began to practice by himself, repeating movements and knocking his hands to the bone against concrete columns of his villa. His practice did not escape attention. One day Russian lecturers of Bamako colleges Boris Nesterov and Vyacheslav Gliksman asked Rukavishnikov if he was interested indeed in martial arts. They invited him to follow them with certain caution. One should make a remark that every soviet man working abroad had to report all their contacts with foreigners to the Embassy.


The Russian displayed diligence, selflessness and devotion towards Aikido practice, although the average air temperature exceeded 40°C (Bamako is located on parallel 12 to the South of Sahara desert). The Russian´s attitude to Aikido led to cordial atmosphere during the practice on tatami.
Thus a group of three soviet conspirators straddled mopeds, which were only available vehicles, and went to Bamako Judo club, where Boris and Vyacheslav had been practicing Aikido under the conduct of sensei Van Bai, a short Vietnamese (about 160 cm tall) who had thin hands and was wearing glasses. He was absolutely not like those popular cinema karatekas. The training started and that small week man performed amazing tricks with the French, African, Pakistani, who were excelling the teacher in height and strength, and with Russian bears, who looked clumsy at first. Van Bai turned out extremely brisk, active and reactive. His hands proved to be exceptionally tenacious and strong in a grip. His fist would constantly touch the most vulnerable points of the body. And that was not a rehearsed film scene, but a usual Aikido demonstration. The shock was immense. At that time sensei Van Bai had 2nd Dan in Judo and 2nd Dan in Aikido Aikikai. Besides he was master of a special technique and tough it to the guard of Mali President Modibo Keita.


At the beginning of 1969 extremely hot weather even for Africa led to a meningitis epidemic in Bamako. All educational institutions were closed in quarantine for several weeks. The group of three Russians unexpectedly got some spare time and did not fail to spend it for training regardless of additional and rather solemn material expenses. They met Van Bai almost every day and did not limit themselves in time.
The true story of the first Aikido group in the USSR
In July 1969 Vladislav Rukavishnikov came back to Leningrad and Vyacheslav Gliksman went to Moscow. Boris Nesterov went to Ulyanovsk having worked in Mali for another year. The three of them had been certified for 3rd kyu. Master Van Bai moved to work in Madagascar. The three had no trainer and groupmates in their native towns. Morning warm-ups were not sufficient and Vladislav Rukavishnikov came to one of Karate groups which were secretly springing up in the city. The group was trained by Gryakalov in Leningrad Electrotechnical Institute. The trainer noticed peculiarities in the way the beginner was moving and escaping blows. Gryakalov found out that Rukavishnikov had been learning Aikido and asked him to show a technique. The demonstration was over shortly after Rukavishnikov performed Sankyo and injured his partner´s elbow.


In a few days a phone call rang in Rukavishnikov´s flat and an unknown voice insisted on meeting him. It turned out that in Leningrad there was a small group of people who had been practicing Karate and were interested in Aikido. They were Alfat Makashev, Oleg Andreev, Valery Sedunov et alias. They had been trying to master Aikido technique on their own, with a book. They met Rukavishnikov in his flat and asked him a lot of questions. But most of the questions could be answered only in a gym. The group had to search for one. In the USSR the ban put on Karate applied for Aikido, too. The trainings were conducted in disguise of Judo. The group had to cover the windows of the gym with old newspapers so that prying eyes would not see them. However every 2 or 3 months the practice would get banned and the group had to look for another gym.


They had been gradually mastering Aikido as a means of communication between completely different people through tatami work, a means of self-understanding, a means of physical and spiritual development, as a way of life and philosophical unity between the human and the Nature.
This went on for quite a long time. Rukavishnikov was demonstrating techniques and willingly training the group in all he had mastered. At first there were no teaching aids on Aikido in our country and photographs brought from Mali helped immensely. In those pictures a lot of techniques performed by Van Bai were shown frame by frame. Nevertheless the group were raising a great many questions and had to search for answers on their own. Unfailing members of the group Oleg Andreev and Alfat Makashev rendered much support in the search. Vladislav regretted that although he had selflessly practiced Aikido at Van Bai´s, he had had no idea that he would teach other people himself and had made no notes of the guidelines.

The group had been training till 1983. A Judo trainer Aleksandr Korneev was finishing his thesis at that time. He enthusiastically joined the Aikido group and added his methodological approach to their search. At present Korneev is a state judo trainer in St. Petersburg. The leader of a hand-to-hand fighting group lieutenant colonel Vladimir Petrovich Lipovka invited Rukavishnikov to work in Komarov Military Institute of Physical Education. Lipovka´s thesis covered training of battle swimmers and he wanted to investigate Aikido techniques afloat and in scuba diving.

Since 1976 Rukavishnikov's group have been cooperating with Sergey Viktorovich Kiselev (mainly through Alfat Makashev and Oleg Andreev). At that time Kiselev was training teenagers in Judo and also mastering Aikido techniques in the club "Prometey". By then he had had perfect skills in such martial arts as Judo and Sambo and had been seriously doing Kempo. Thus he was justifiably interested in broadening his viewpoint in the sphere of martial arts. One of the main directions in his analysis of Aikido techniques was search of universal keys for each technique, which made the latter efficient in the case of the real attack.


Van Bai turned out extremely brisk, active and reactive. His hands proved to be exceptionally tenacious and strong in a grip. His fist would constantly touch the most vulnerable points of the body. And that was not a rehearsed film scene, but a usual Aikido demonstration.
In 1983 Rukavishnikov was lecturing in Leningrad Polytechnic Institute at the department of structural and elastic theory and was detached to the University and Higher Military Institute of Bujumbura, the capital city of Burundi Republic. There he got acquainted with Jean-Christophe Roudot, a teacher of French and a pupil of the famous Aikido master Christian Tissier. Jean-Christophe had a small group of pupils and Vladislav Alekseevich Rukavishnikov joined their trainings at once. Together with Jean-Christophe Rukavishnikov worked a lot on the basic techniques and was mastering jo techniques.

After coming back to the USSR Rukavishnikov went on training the group of leutenant colonel Lipovka. At that time the government of the country lifted the ban on oriental martial arts. When Leningrad Union of Oriental Martial Arts was created, the trainings grew very popular. At the same time cooperatives of physical education were growing like a weed. Some of them were arranging Aikido clubs. In 1988 Vladislav Alekseevich was invited to work in the cooperative "Zdorovye", later he and his senior pupils rented a gym of the College of Communal Services at Mirgorodskaya, 26. About 200 people were trained in those groups. With regards to the explosion of martial arts' popularity many come-and-go people appeared in the club at first. Their main interest was not mastering the centuries-old spirit and culture of oriental martial arts, not even counteracting an attack, but quick 2- or 3-month learning to oppress, injure, beat or even destroy an enemy. That was why many pupils were leaving the groups. However at the same time the most active, gifted and clever pupils made the backbone of the club. They were a success in mastering Aikido techniques as well as its spiritual and philosophic purport.


During the next period of Rukavishnikov's work he took part in creation of Aikido Federation and election of the leading bodies on a scale of Leningrad, Russia and the USSR, in getting international acknowledgment for Russian Aikido and teaching Aikido at the courses for instructors of oriental martial arts within Lesgaft Leningrad Institute of Physical Education.

In 1991 sensei Yasunari Kitaura (7th Dan Aikikai) certified Rukavishnikov for 1st Dan and in July 1993 for 2nd Dan. In June 2002 the Secretary-General of Aikikai Hombu Dojo sensei Masatake Fujita (8th dan) certified him for 3rd Dan. In 2007 sensei Tamura (8th Dan Aikikai) certified Rukavishnikov for 4th Dan.

Since 1995 Vladislav Alekseevich has been conducting trainings in the club "Lenkai". He has trained tens of students for Black belt rang of different levels.

Vladislav Rukavishnikov is a Distinguished Coach in martial arts of the Russian Federation.

In 2005 Rukavishnikov was awarded the national prize of the Russian Union of Martial Arts "Golden Belt" in the nomination "Life Dedicated to Martial Arts".