Tamura sensei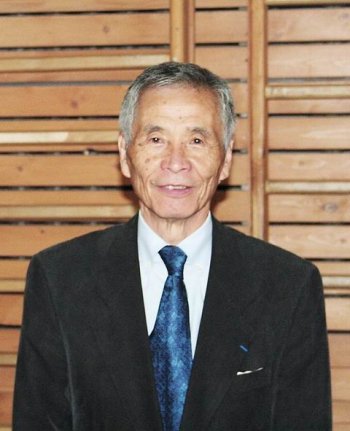 Shihan, 8th Dan Aikido Aikikai, National Technical Director of French Federation of Aikido and Budo[1], Official Aikikai Representative for Europe
Nobuyoshi Tamura was born on March 02, 1933 in Osaka, Japan. His father was the Kendo teacher well known in Japan. When quite young, by the will of his father, he started quite serious training in exercises with a sword. When Nobuyoshi Tamura was 20, he joined Aikikai Hombu Dojo as an uchi-deshi (live-in student) of O'Sensei. In some sense, it happened by a chance. Being a teenager of 16, after his father died, Nobuyoshi Tamura decided to live on his own and left the house of his parents. He was forced to seek support by his acquaintances: from time to time he rented a lodging by them. Once he was asked to live a month in the house of the newly wed Seigo Yamaguchi sensei, who left the house and sought for anybody to maintain the house. Seigo Yamaguchi sensei was so kind as to allow Tamura to cook his rice. When the month was over and Yamaguchi returned with his young wife, it turned out that Tamura had nowhere to live. Yamaguchi sensei pitied the poor lad and suggested that he might live in dojo. Nobuyoshi asked how much he must pay, the sensei answered: "Nothing!", the decision was taken at once, and Nobuyoshi became an uch-deshi.

When living in dojo, Tamura got to be one of the best and closest students of O'Sensei. In many early video records one might see Nobuyoshi Tamura as uke of the Aikido Founder. In 1961 N. Tamura was a holder of the 5th Dan of aikido and an instructor of Aikikai Hombu Dojo; together with K. Tohei he accompanied Morihei Ueshiba, i.e. O'Sensei, when he went to Hawaii on the occasion Dojo Aikikai opening. It was the first journey of Tamura abroad and the beginning of the process of turning Aikido into international phenomenon.

During more than 10 years Tamura proceeded with studying aikido in Hombu dojo. At that time at the head of Hombu Dojo was already the son of the Founder, Waka-sensei, as he was called by uchi-deshi. Together with Morihei Ueshiba called by everybody O'Sensei, Waka-sensei conducted training sessions.


Many years passed until aikido in France became an independent discipline. To a large extent, it was possible due to the talent and energy of Nobuyoshi Tamura.
From the year 1964 till now, the life of Tamura sensei was dedicated to propagatiion of aikido in France and Europe.
Before he went to France, he met with his future wife, Ms. Rumiko, one of students in Hombu Dojo.
In 1964 N. Tamura came to Marseilles that become the final point of his wedding journey. This journey was in part paid for from money which sensei Tamura earned by aikido demonstrations on the board of ship.

Though Tamura sensei at that time did not know French enough to speak this language freely, he decided to live in France and propagate there aikido.

In those years the Japan martial arts – judo, karate, aikido – were already known in France. In propagation of aikido were engaged such masters as Minoru Mochizuki, Masamichi Noro, Mutsuru Nakazono. The latter was the friend of Tamura, because both of them were living as uchi-deshi in Hombu Dojo; they visited together the Japan house of sensei Tadashi Abe, when he returned from France and heard about his impressions of Europe.
Since 1959, aikido was taught in France by the master Andre Nocquet (over the period from 1955 to 1957 he studied aikido in Hombu Dojo, having been invited by M. Ueshiba. He was the first Frenchman to come to Japan to study aikido).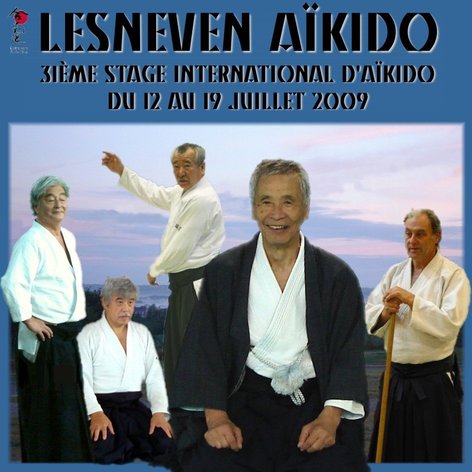 Meanwhile, the most popular Japan martial art in France was judo. The majority of aikido trainers were also judo trainers. Only instructors accredited by the Judo Federation were allowed to teach budo like karate or aikido. The first dojo where N. Tamura began to work was Judo Club of Provence – one of the biggest judo clubs in that time. Its head was the aikido and judo master Jean Zin, the student of sensei Tadashi Abe and one of the aikido forefathers in France, the champion of Provence in judo. Many years passed until aikido in France became an independent discipline. To a large extent, it was possible only due to the talent and energy of Nobuyoshi Tamura.

When Mutsuro Nakazono sensei left for Paris, he allowed N. Tamura to teach aikido in his dojo. At that time sensei Tamura had no more than 60 students. For comparison, it may be noted that in the whole Europe there were from 800 to 1500 aikido practitioners. In France there were approximately 700 – 800 aikidoka's.

By 1973, Tamura sensei, in cooperation with Andre Nocquet and Mochizuki Hiroo, elaborated The national method of Aikido, the unified program of Aikido training and attestation in France.

In 1982 sensei Tamura, always the upholder of the idea of foundation of an independent federation of aikido, established the French Federation of Aikido and Budo (FFAB – Federation Francaise d'Aikido et de Budo). The people who preferred to stay in the Judo Federation (FFJDA – Federation Francaise de Judo et Disciplines Associees) later on made it the independent organization (FFAAA – Federation Francaise d'Aikido, d'Aikibudo et Affinitaires) under the technical supervision of Christian Tissier. At present these two organizations are unified under the French Aikido Union (Union Francaise d'Aikido).

In 1989 Doshu Kisshomaru Ueshiba came to France to congratulate sensei N. Tamura with 25th anniversary of his work in Europe, thus demonstrating the high appraisal of Aikikai concerning the activities of Tamura sensei.


In 1989 N. Tamura opened his own dojo - Shumeikan Dojo – in the village of Bras (region Var, France). It became the place where sensei, with his closest students, may be engaged in his studied of aikido and searches. After aikido practices in Shumeikan Dojo, Tamura sensei used to have his dinner and rest in dojo together with his students. Here Tamura sensei also holds his seminars that may be attended by anybody willing to be present.

The dojo is named Shumeikan, to impart the meaning this place is given by the sensei. Shumeikan is a palace where light is abiding; it is actually the reference to the cosmogonic theory of Shinto.

Shu means the transition from the primary chaos to the cosmos, from the world at the moment of its creation, when no order had been present, to the arranged universe, with its determined laws. Shu must be reminiscent of the time when Isanagi and Isanami had created Japan.

Mei must be reminiscent of the fact that light and knowledge cannot exist without the cosmic order, without dividing life from death, without light that is illuminating the world at the dictates of Ameterasu O Mi Kami.

Kan in its primary sense means to give or to get a housing.

Nobuyoshi Tamura sensei is a person of authority in the aikido world. Many aikido instructors in Europe and in the world recognize Nobuyoshi Tamura sensei as their Teacher. Tamura sensei is the author of several aikido books.
In 1999 Tamura sensei received the medal of "Chevalier de l'ordre National du Merite" from the French government.

Throughout the year Tamura sensei is conducting seminars in various regions of France. Over more than 10 years in May he is carrying on annual international seminars in the region Il-de-France. This event in the aikido world is attracting more than 800 aikidoka from various parts of the world.


Tamura sensei is the honorary citizen of the town of Lesneven where he, together with his fellow Yoshimitsu Yamada sensei, carries on a week long yearly July aikido seminars. Apart from it, in the end of July or on the first days of August of each year Tamura sensei conducts the seminar in Saint-Mandrier, in August – in La Colle-sur-Loup.

Since 1992 Tamura sensei came regularly to St Petersburg to carry on seminars within the framework of the traditional international aikido festival White nights and attestation of aikido students for Dans. The Russian representative office of Tamura sensei[2] is located n St Petersburg.


Interesting facts:
When Tamura was 20, he got acquainted with the founder of the science of macrobiotics (the theory of spiritual, mental and physical health inductive to long life), the well known Japanese healer George Osawa. In particular, Osawa was the man who told N. Timura about aikido.
When in France, N. Tamura made friends with the zen buddist teacher Taisen Deshimaru who came to France in 1965; Osawa believed that Taisen Deshimaru shall be his successor.
Vast knowledge of Tamura sensei and his healing skills are widely known in St Petersburg. For instance, he was able to arrest the acute joint pain (consequences of an old sports trauma) that attacked the President of International Euro-Asian Aikido Federation Sergey Kiselev by mere pressing some points known to him.
During some years each seminar of Tamura sensei was attended by several of his students who accompanied sensei everywhere he held his seminars.
References
See also