Farhad Aleskerov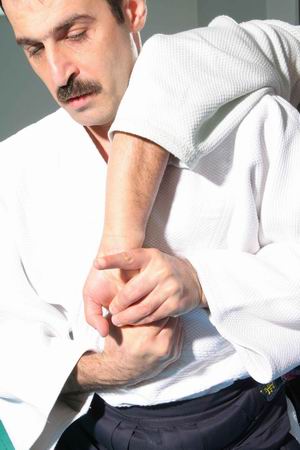 Vice-President of International Euro-Asian Aikido Federation, President and Technical Director of Azerbaijan Aikido Federation, 5th Dan Aikido Aikikai
Sensei Farhad Aleskerov has degree in jurisprudence. Ever since he was young, he has been keen on different types of martial arts such as wrestling, Judo, Karate. His amateur activity turned professional after meeting with Russian masters of Aikido Sergey Kiselev, Alfat Makashev and Vladislav Rukavishnikov.

Farhad Aleskerov completed the Correspondence Aikido Instructor Course of the University of Physical Education, Sports and Health Named after P.F. Lesgaft. He was one of the founders of the USSR Aikido Federation, the President of which was elected Sergey Kiselev.

Aikido development has been started in Azerbaijan since 1990. In 1992 there was officially registered Azerbaijan Aikido Center. The Azerbaijan Aikido Federation (AAF) was registered at the Ministry of Justice on 13th July, 1994. Up to date more than 3000 people are accepted to the Azerbaijan Aikido Federation, more than 800 members conduct their trainings extensively. Azerbaijan Aikido Federation includes Aikido Center and regional sports clubs.

There are 3 gym halls in Aikido Center with gross tatami area equal to 264 square meters. Instructors of Aikido Center conduct trainings in children's, women's, teen's and advanced groups under the direction of sensei Aleskerov.

According to the Azerbaijan Aikido Federation Calendar sensei Farhad Aleskerov conducts republican, regional and instructors' seminars every year. He conducted international friendly seminars in Dubai and Turkey. Also he regularly accepts examinations for kyu and Dan ranks. Up to date sensei Aleskerov prepared more than 30 students for Udansha rank.

The Azerbaijan Aikido Federation operates as a member of the International Euro-Asian Aikido Federation and directs the activities for development of Aikido in Azerbaijan and strengthening of international relations. International seminars are conducted annually by Nebi Vural sensei, 6th Dan Aikikai (France), student of Tamura Sensei and Technical director of Eurasia Aikido Organization. In November 2009 Nebi Vural sensei took part in the international seminar dedicated to the 15th anniversary of the Azerbaijan Aikido Federation.

These invited masters visited Azerbaijan: Kendo – K. Okada (Japan), Kashima Kenjutsu – Andrey Baziliko (Poland), Yoga – Alexandra (France), Aikido – G. Homma (USA). The AAF members participate actively in foreign international seminars and festivals, where they practice under direction of such senseis as N. Tamura, Y. Yamada, S. Sugana, M. Fujita.

Having familiarized with the AAF activity Japan government allocated grant money to purchase tatami and accessories for dojo.


Sensei Farhad Aleskerov is regularly invited for conducting of Aikido trainings by enforcement services, custodial services and military agencies. The Azerbaijan Aikido Federation works closely with the Ministry of Youth and Sports. The present day Azerbaijan Aikido Federation is the only non-governmental Aikido organization in Azerbaijan. The AAF President is also a member of the National Olympic Committee of Azerbaijan. The Azerbaijan Aikido Federation regularly conducts Aikido demonstrations within state sport events. Sensei Aleskerov controls the AAF activity directed to creation of international all-season training camp in the Caucasus Mountains. Also regional training camps are being created.

Farhad Aleskerov is the author of the book "Aikido Philosophy" (published in 2009 and available by request to the Azerbaijan Aikido Federation) and compiler of the booklet "Aikido Practitioner Memo". He did lecturing at schools, universities, private companies on such topics as "Aikido for votaries of Art", "Aikido and Medicine", "Aikido in usual life", "Aikido and Business", "Aikido for Yin".


See also