Vladimir Tagirov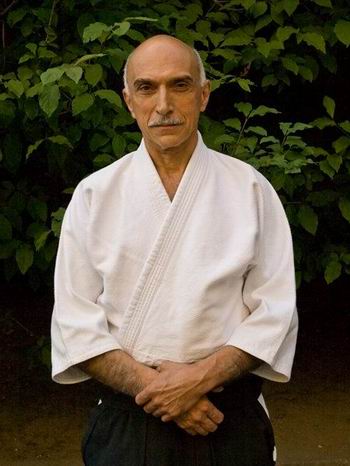 Vladimir Tagirov was born in 1949. His father was a professional soldier and his family used to move very often. Therefore he attended 12 different schools during 10 years in various regions of Russia, such as Moscow, Sakhalin, Siberia, Urals and the Northern Caucasus. During his years of study at school and in university he was keen on drawing, music and boxing.

In 1971 he completed his Physics diploma from the State University in Dagestan. After that he taught physics and mathematics in secondary school № 5 in Makhachkala. Nowadays Vladimir Tagirov explains that when he had chosen his profession at the age of 16, he was guided by an idealistic notion about the profession. When he started to study in University, he realized that exact sciences and his spiritual search had nothing in common.

When he had been studying in University, he was keen on Student's extra-curricular very much. He was an invariable participant, script writer and director of «Archimedes's day», the student festival of physicists. Primordially it was just an amateurs' night for student of different departments, but after 5 years in the spring of 1971 there was a great three day long festival where different delegations of twelve Universities took part from various regions of USSR. During the festival students took part in absorbing excursions and scientific conferences. There was also an integral part of festival – a 4 hours long concert, where a lot of talented amateurs' teams of all university departments were brought in to play with the single scenario. Owing to the fact that students had to make a live-action film for every festival, Tagirov gained wide experience as a player, script writer and director.


But after that Tagirov decided to leave theatre for ever. By this time he had already been studying various martial arts of East for 10 years and during 6 or 7 of them he was deeply keen on Aikido.
The interest in play led Vladimir Tagiriov to National Youth Theatre of Makhachkala city. The Chief director of the theatre was Mr. Sapozhnikov. Earlier he was an eminent Soviet director, who had studied in the last drama class of Evgeny Vakhtangov. Sapozhnikov was a highly cultured man and he tried not just to develop student's professional skill, but he also taught students to be responsible for their creative work in theatre art. At the beginning of 1972 V. Tagirov became the main player of the drama school and assistant of E. Sapozhnikov. As a result of conflict between Sapozhnikov and the Ministry of Culture, master left the theater and entrusted Tagirov with a task to conclude the play of A. Kuznetzov «Moscow's vacation». In spring of 1972 the performance was played in Russian M. Gorky Drama Theatre and Vladimir Tagirov acted one of the main parts of the play.

So, he decided to change his profession and entered the Leningrad State Institute of Theatre, Music and Cinematography (Now Saint Petersburg State Theatre Arts Academy). At that time all the senior lecturers of the university were real distinguished masters of culture. Georgy Tovstonogov headed the Department of stage direction. When V. Tagirov hade been studying in theatre institute, he got an educational grant of Nikolay Simonov. At the end of 1977 V. Tagirov achieved an honours degree in stage direction of the Leningrad State Institute of Theatre, Music and Cinematography. After that he worked as a stage director in theaters of Pskov, Makhachkala and Leningrad. In 1986 he entered the High courses of stage direction and came to have 2 years study practice in Leningrad Maly Drama Theatre directed by Lev Dodin. In 1986-87 he produced his own play of Gofman's fairytale «The Nutcracker and the Mouse King». Sergey Kurekhin created the background music for this play.


But after that Tagirov decided to leave theatre for ever. By this time he had already been studying various martial arts of East for 10 years and during 6 or 7 of them he was deeply keen on Aikido. He met a lot of like-minded persons in Leningrad and was introduced to Alfat Makashev, Sergey Kiselev and Vladislav Rukavishnikov.

From 1987 to 1989 years he spent his time with them in common trainings and a spiritual search. There were serious political changes in Russia in that time and within the people Russia. Vladimir Tagirov showed active participation in establishing the USSR Aikido Federation. He was chosen in the Presidium of the federation, where he was responsible for promotion of Aikido. The USSR Aikido Federation established good relations and strong contacts with main masters of Aikido, and organized a lot of demonstration Aikido trainings and Aikido festivals. In 1990 Tagirov received an official letter, signed by the President of the USSR Aikido Federation Sergey Kiselev, and went to Spain to undergo a training of Yasunari Kitaura, who was a representative of International Aikido Aikikai Center in the country.


For 12 years V. Tagirov and some of his followers had studied ancient martial practices of Japan to better understand the profound idea of Aikido. In July of 2008 Tagirov then established East Traditions Cultural Center «Daidokan».
At the beginning of 1991, Tagirov established Aikido club «Aikikai» and was given Kitaura sensei's consent to undertake the club's patronage. After that Tagirov made preparatory work and with the help of the USSR Aikido Federation, he organized a great international Aikido seminar, which was led by Yasunari Kitaura. It was the first seminar led by such a high class sensei in USSR. During this seminar first for the time several residents of Leningrad received black belts of Aikido (Sergey Kiselev, Vladislav Rukavishnikov, Alfat Makashev, Vladimir Tagirov).

After the USSR was split up, the USSR Aikido Federation was renamed as the International Euro-Asian Aikido Federation. Vladimir Tagirov was chosen to be the Vice-President of IEAAF and became responsible for Aikikai Aikido. Since then V. Tagirov has regularly cooperated with Aikido clubs of the International Euro-Asian Aikido Federation in different cities of Russia, Ukraine and Belorussia. He has participated in international seminars of Aikido in Spain, Japan and other countries and has organized international Aikido seminars in Saint Petersburg.

In 1994 and 1996 Vladimir Tagirov completed 2 study courses in International Aikido Aikikai Center - Hombu Dojo (Tokyo, Japan). In 2001 he completed study course at the Institute of Complex Martial arts in Japan (Sapporo, Hokkaido).


For 12 years V. Tagirov and some of his followers had studied ancient martial practices of Japan to better understand the profound idea of Aikido. In July of 2008 Tagirov then established East Traditions Cultural Center «Daidokan». In 1996 V. Tagirov was introduced to Yuji Matsuoi sensei who became his teacher in Iaido (Japanese martial art with a sword) and Kobu-jutsu (ancient martial art). Following time he has taken part in international seminars of Iaido and Kobu-jutsu abroad and he now organizes international seminars in Saint-Petersburg.

Vladimir Tagirov is in a constant contact with his teachers of:

Aikido - with Yasunari Kitaura sensei (8th Dan Aikido Aikikai)
Kobu-jutsu and Iaido - with Yuji Matsuoi sensei (Head of the Kokusai Shorinji Ryu Каratedo, 8th Dan, Hansy; Head of the Mugen Ryu Heiho, 8th Dan, Hansy; 7-th Dan of Muso Jikiden Eishin ryu Iaiheiho, Rensy).

In 2005 Tagirov became a Distinguished Coach in martial arts of the Russian Federation. Today his achievements are the follows:


5th Dan Aikido Aikikai
6th Dan (Kyoshi) Mugen ryu Heiho Kobu-jutsu
3th Dan Muso Jikiden Eishin ryu Iaido