Sergey Kiselev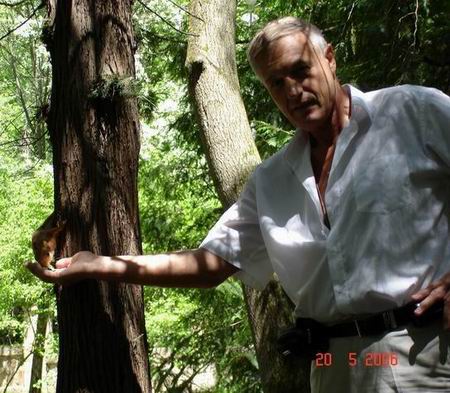 President of International Euro-Asian Aikido Federation, President of All-Styles Aikido Federation of Russia, Vice-President of the National Aikido Council of Russia, awarded the national prize "Golden Belt" by the Russian Union of Martial Arts, 6th Dan Aikido Aikikai
In early 70-ies of the 20th century Sergey Viktorovich Kiselev, a master of sport in Judo and Sambo, practiced Serinji Kempo and was good at wrestling. He was especially interested in throwing techniques, which were a separate branch of Kempo. His Kempo coach would say that that branch techniques were a simplified version of Aikido throws performed in brief and tight forms. Those techniques enabled to overcome an attacker excelling the defender at physical ability. Neither Sambo nor Judo suggested such a possibility.

In 1971 an Aikido manual came to Kiselev's hand for the first time. He had the manual translated and studied it throroughly. Initially Kiselev was looking for separate Aikido elements, which attracted him with their efficiency and served for satisfaction, for broadening the outlook in the sphere of martial arts, rather than for serious practice. Sergey Viktorovich worked as an instructor at the department of physical education and sports of Leningrad Construction-Engineering Institute and trainings naturally took place in the wrestling hall of the institute. At that time Sergey Viktorovich practiced Judo and Sambo and took part in competitions. Even though he used to perform Aikido techniques on a dilettante level, they opened up ample opportunuties for him both in trainings and in competitions.

In the same years Sergey Viktorovich payed much attention to studying protest teenagers psychology, worked on the thesis "Certain peculiarities in re-education of intractable children in the course of Judo trainings" as a degree-seeking student at the Psychology department of Leningrad State University. In 1976 he proceeded with training Judo in the camping club for intractable children "Prometey". Kiselev took advantage of the club's gym that happened to be in his disposal for further serious and thorough work on the analysis of Aikido techniques.

Meeting Alfat Makashev gave Sergey Viktorovich an opportunity to collaborate with the group of Vladislav Alekseevich Rukavishnikov. Joint search and literature analysis were raising new questions all the time. Some things were not clear or seemed unreal, and month by month a contact with a master of Aikido grew necessary.

Such masters of Kempo and Kendo as Kiselev and Makashev came to Aikido because of their intelligent attitude to martial arts. Aikido was derived from the practice of samurais, i.e. the most equipped and educated class of professional soldiers. The analysis of all accessible martial arts shows that Aikido is the most universal and balanced wrestling system. Apparently this conclusion corresponded to what Kiselev and Makashev have been searching for in the sphere of martial arts for many years.


Forming Leningrad Union of Oriental Martial Arts was an important step in the development of martial arts in Leningrad. The union was founded at the initiative of Oleg Markovich Rish who consolidated all wrestling federations of Leningrad and Leningrad region. Aikido was represented in the union by Kiselev and Makashev. The union gave an opportunity to popularize and intensively develop all oriental martial arts including Aikido.

The first Leningrad testing for instructors in oriental martial arts took place in March 1988. Aikido testing was run by Kiselev and Makashev. Among those who took the test one should mention Vladimir Tagirov, Vasiliy Emelyanenko, Igor Kalashnikov, Zaurbek Gadzhiev, Rashit Gataullin and Vasiliy Shadrin. Certified instructors were free to arrange new clubs. In 1988 Tagirov, Emelyanenko and Kalashnikov set to coaching in several Leningrad cooperatives of physical education together with Kiselev, Makashev and Rukavishnikov. That was the beginning of wide Aikido spreading in Leningrad.

Official acknowledgement of Aikido became possible with active help of S.V. Kiselev and under all-round support of Oleg Markovich Rish and Arnold Markovich Rish.

On 7 January 1989 Leningrad and Leningrad Region Aikido Federation was arranged, and S.V. Kiselev was elected its leader. That was the first official Aikido Federation in the USSR. In 1989 the first Aikido-specialized clubs were opened: in May the club "Lenkai" was opened, and in September Vasiliy Emelyanenko opened a Soviet-Danish club "Takemusu-Aiki".


Creation of the club "Lenkai"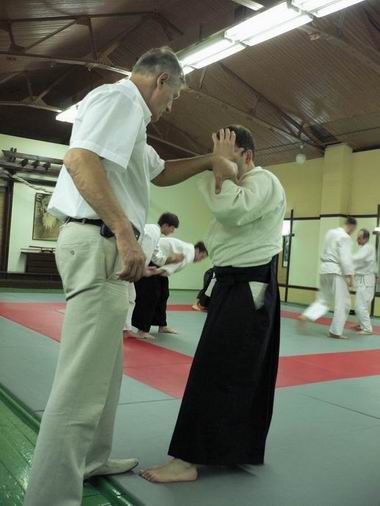 In 80-ies Sergey Viktorovich Kiselev, having been a trainer in Judo and Sambo for a long time and having many acquaintanses in the sport world, managed to get a sanction to conduct Aikido trainings by way of experiment. That official sanction breached the system of bans on oriental martial arts and became a big step in their legalization.

In September 1987 the first official Leningrad Aikido groups directed by S.V. Kiselev were opened in the cooperative "Yuventus" (the chairperson of the cooperative was Yakov B. Nikitin). On the same occasion Kiselev invited Makashev to work in "Yuventus". Trainings were based on the programme compiled from published works of Kisshomaru Ueshiba.

In January 1988 two Aikido clubs were opened in the district of Udelnaya metro station. Trainings were conducted in a basketball court without special wrestling covering. All the throws were done on the wooden floor. There was a constant idea of a specialized Aikido club with a separate room. Active search showed that all vacant premises were too small, and suitable rooms were either completely occupied or would be rented for trainings for several hours a day.

At 123b Obvodny Canal there used to be located the club for intractable children "Prometey". That club was created and directed by Sergey Alekseevich Alekseev for a long time. That person became a legend for those who had ever faced the problem of intractable teenagers. (That is him who was a prototype for Chief of intractable teenagers camp in the film by Dinara Asanova "Lads", acted by Valery Priemykhov). That club performed huge work on offence prevention and behavioural modifications. Sergey Viktorovich knew about those premises, because he had been working as a deputy chief an a chief of the camping club for intractable children "Prometey" for a long time and had been conducting trainings in Judo and Sambo for those teenagers.


Aikido was derived from the practice of samurais, i.e. the most equipped and educated class of professional soldiers. The analysis of all accessible martial arts shows that Aikido is the most universal and balanced wrestling system.
The premises were in awful condition. There were mouldy walls in the big hall, holes in the floor and no light, and through the roof one could see birds flying in the sky. In order to arrange trainings in those premises one should have spent a lot of money. When the cooperative movement began, Sergey Viktorovich found financial opportunity to have the hall repaired and arranged for aikido trainings. He requested the exequtive committee of Lenin district to take the premises for work with teenagers and the population of the district and the city. Although S.V. Kiselev was going to get the premises ready for trainings by his own efforts and means, the executive committee made several additional conditions.

The first condition was to siphon water from cellars that had been swamped since World War II and where water stopped 30 cm short of the ceiling. After draining the cellars one should have made a damp course and kept the cellars in order. The second condition was to provide repaired premises to school 307, which occupied the building itself, for physical education.

Repairing costs were huge and Sergey Viktorovich invited a friend of his, businessman Slava Kvekveskiri to drain the cellar under the condition that the businessman would get half of the cellar to arrange furniture manufacture. As the club did not exploit cellars, Slava Kvekveskiri was given the rest of the cellar in the following. For saving money odd work was performed voluntarily and gratuitously by pupils of Sergey Viktorovich. By their efforts the club Lenkai was opened in May 1989 and in October 1989 Aikido trainings started there.


Teenager trainings are quite specific and Sergey Viktorovich considers it difficult for children to understand Aikido. Being a master of the USSR sport in Judo and Sambo and a coach in those kinds of sport, Kiselev opened Judo groups in Lenkai and conducted them himself at first. Furthermore the club work was arranged in such a way that after growing up and aquiring necessary wrestling experience young people had an opportunity to continue training in their club and begin Aikido practice.

Since then the clun has been actively developping, inviting new interesting trainers to work and many famous Aikido masters to conduct their workshops. Beside Aikido workshops the club runs the Victory Day International Judo Tournament. At present the tournament is run either in the Sports and Concert Complex or in the Sports Palace Yubileyniy (Saint-Petersburg) and is entered by more than 1000 participants from two dosens foreign countries apart from cities of Russia.

In 2009 S.V. Kiselev was awarded the national prize in the sphere of martial arts "Golden Belt" in the nomination "Fidelity to the Chosen Way".


See also