Horikoshi sensei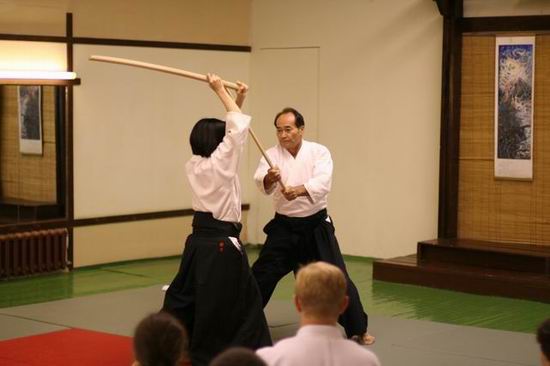 Haruyoshi Horikoshi
sensei (7th Dan of Aikido Aikikai) was born on March 23, 1945 in Manchuria.
He began to study aikido after entering the Hosei University in 1965. While practicing aikido in the university group, he started to attend Hombu dojo and was taught by O'Sensei, his son Kisshomary Ueshiba sensei, shihan Arikawa Sodateru and shihan Kobayashi Yasuo. After graduating from the university in 1969, he was employed in the company manufacturing construction equipment. During all subsequent years he proceeded with aikido practicing with shihan Kobayashi Yasuo, was studying also Iaido and Jo-Do (Shinto Muso ryu).
In 1982 Horikoshi sensei became the professional aikido teacher in Kobayashi Dojo, Aikikai. At the same time he began his activities as a teacher in Tokyo and the prefecture of Saitama, including Kasukabe Dojo that was located at that time still in the old building. From 1983 Horikoshi sensei started to teach aikido abroad (in Taiwan, America, Canada, Germany, Northen Europe, Philippines, Thailand, Korea, Iran).
In 2002 was opened
Horikoshi Dojo
in the town of Kasukabe (satellite town of Tokyo). A new hall was built on the place of the old dojo. Apart from his own dojo in Kasukabe, Horikoshi sensei is carrying on training in four other dojo's.
In addition to Japanese groups oriented on Horikoshi sensei, other such groups exist at present also in America, Iran, Thailand and Russia.
The history of the Russian group supervised by Horikoshi sensei began in 2004, when Yoriko Suzuki, one of students of Horikoshi Dojo, came to Saint Petersburg to have a language practice. Because she practiced aikido over many years and did not want to interrupt her training, she sought the way to proceed with them. She came to training sessions of Dmitry Chernyayev and then continued her aikido training in the club
Seimei
. Afterwards she offered to arrange a seminar of Horikoshi sensei in Saint Petersburg. This seminar was carried on in January of 2005 and was the starting point in creating relations between the club Seimei and Horikoshi Dojo.
Since 2005 Horikoshi sensei visited Russia many times and conducted aikido seminars in Saint Petersburg and Petrozavodsk, Karelia, open for the club Seimei students and for all people interested in aikido. During these years, more than 20 students of the club Seimei achieved the level sufficient to be attested for the 1st Dan of aikido of Horikoshi sensei direction. The head of the club Dmitry Chernyayev received the 3rd Dan from Horikoshi sensei, while passing his exams together with the Japanese student of sensei, Mr. Kuramochi. The exams were carried on in September of 2007 in Saint Petersburg. In 2006 and 2008 delegations of the club Seimei visited Horikoshi Dojo in Japan, were training aikido under guidance of sensei for two weeks. They also journeyed in Japan together with Horikoshi sensei and his wife Ms. Yoko-san (3rd Dan of aikido).

Sensei Horikoshi has in Russia more than 200 students.


His techniques impress everyone with their power, precision and laconicism. Sensei has the propensity rather to traditional aikido following trends set up by O'Sensei. As to the methods of teaching, they include many exercises with wooden weapons (bokken and jo). The program of exams is very saturated and extensive. All these factors are forming the solid basis for the development of a serious aikido school based on the permanent contacts with Horikoshi Dojo under guidance of Haruyoshi Horikoshi sensei.


See also