History of Aikido Development in the USSR and Russia
Continuation of the article. Part 3
Beginning of cooperation with the international organizations of Aikido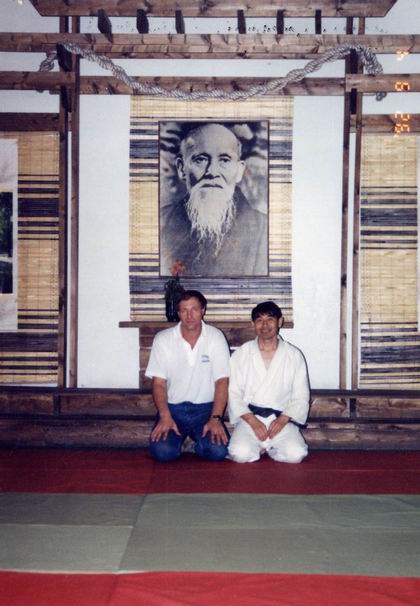 Saint Petersburg was often visited by Mori-san. It was very interesting for me to talk with him. For in his childhood he lived in Sakhalin, he knew Russian people and their mentality well enough. Later on it was known to me that he was one of the Aikikai Hombu Dojo people responsible for relations with Russia.
Once he asked me why would not I remove a single word – "all-style" from the Federation name and be limited by a single Aikido direction – Aikikai; in this case the position of Hombu Dojo Aikikai towards us would be changed for better in a moment. I explained. He said he understood my position quite well, but would like me to be more perceptive of their views. On one side, I understood them perfectly, on the other – could not understand.
In February of 1992 they called up from Moscow and informed us that Moriteru Ueshiba was going to visit Saint Petersburg. We notified about it all members of the Federation. In Saint Petersburg arrived a lot of aikidoka's both from Russia and abroad. We knew nothing about the program of the visit, however decided to be fully prepared. Licked clean the dojo in the Lenkai club, in case the guest would be willing to conduct training session, took on lease a banquet hall on the 2nd floor and set tables. In the morning we met the guests at the railway station.
In the evening we were informed that Moriteru Ueshiba wanted to meet in the restaurant Universal only my humble person. We all met in the banquet hall to decide what to do. It was concluded that, whether it would be properly or not, I must be accompanied by the President of the Aikido Federation of Ukraine Igor Yurievich Shmygin and the President of the Aikido Federation of Uzbekistan
Rashid Bakyevich Khalidov
. It was clear that we simply might not to take somebody else with us. All the aikidoka's present there agreed to stay in the hall and wait for the result of out meeting: maybe we would be lucky enough to persuade Ueshiba sensei to come to meet representatives of other federations.
I must say, Japanese were quite dumbfounded with my lack of tact (appearing of three men instead of one), but confined themselves to reminding me I was invited to come alone. I explained my reasons. Somehow, the incident was settled. Extra chairs were brought in and we resumed supper.

Now I could only regret my lack of experience and good manners. I had then no notion of the impression I was producing, only strove to settle off immediately problems I assumed to be urgent, as many as possible. Moriteru Ueshiba tried not to speak on business, supper only.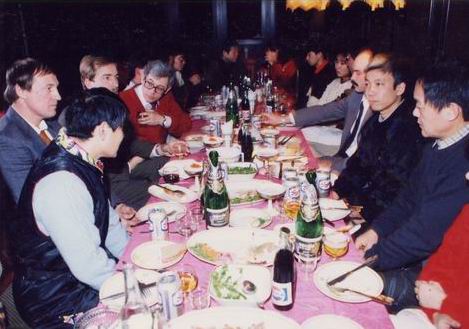 It was interesting to watch him: he was the grandson of famous Morihei Ueshiba and got accustomed to attention, kept calm and dignified, seemed somewhat detached from the environment. His answers were unhurried, and one might feel that he is analyzing each question and his answer. We asked him to come to our club Lenkai, and he turned to someone of his environment. No, he might not, the program was too saturated. If he could … Quite a diplomatic intercourse. We parted diplomats.

In September of 1993 to Saint Petersburg came Sumemiya sensei who also spoke Russian. He conducted training in the club Lenkai and showed quite fine style. It must be said that all shihans I met in my life were wonderful masters skilled in their techniques admirably. Japanese aikidoka's are very scrupulous in this side of their activity.
Then Sumemiya sensei held a kind of conference. I was busy somewhere, came as soon as possible, was late and unprepared for a serious conversation. It seemed the sensei was interested only in a single matter: are we going to adopt a Russian classification system, i.e. Russian Dans. After having been assured that nothing like this was planned for the nearest future, he lost interest for further talks.

I thought he did not like me as a leader. Nevertheless, our contacts with Aikikai Hombu Dojo, the European and World Aikido Federation proceeded to develop further. Great Aikido masters, such as Kitaura sensei, Fujita sensei, Ulf Evenas sensei, Tamura sensei, Yamada sensei and others held their seminars in Russia. Though all of them were practicing Aikikai direction, their techniques were diversified and quite unique. They won their admirers in various Russian regions, their admiration having been soon transformed into the desire to practice only some particular technique. In different region of Russia emerged directions that were contacting, got attested only by their own sensei and attended generally only his seminars.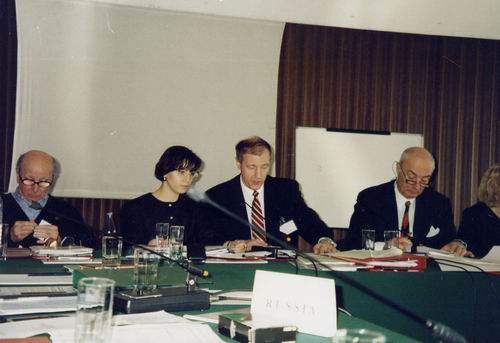 In the fall of 1995 in Sofia was held the Congress of the European Aikido Federation. There were invited representatives of Ukraine, Belorussia, Estonia, Latvia, Lithuania. From Russia, there were invited separately we and the "Muskovites".

For the Congress sessions, there were used premises of the Moscow hotel. At the times of the Soviet Union, there were conducted meetings of the friendly communist parties and the Council of the mutual economic assistance, so the hall was well equipped, including radio. Our federation was represented by me and the President of the Aikido Federation of Saint Petersburg and the Leningrad region Valery Anatolievich Skrylev. We were accompanied by a fine girl Olya Fominova; she was Aikido practitioner and knew Aikido specific features and terms unknown to conventional interpreters. Her presence was both pleasant and very productive for us, for, being small, slender and nice and natural in her ways, she won sympathies of quite a few congress participants.


We came prepared for the Congress. The Aikido masters who came from other countries asked what was done in Russia for development and propagation of Aikido. We understood their concern, because this problem might be of importance for all Aikido practitioners. Actually we were one big family. We were still bearing a grudge against the "Muskovites" who registered the Aikido Federation of Russia behind our backs and violated all our agreements. With this in mind, I had drawn up a report in no sweet words, in Russian and in English, had it printed out and laid on the tables of all participants. Both I and the "Muskovites" were given the floor. They asked the congress to recognize the Aikido Federation of Russia founded by them as a member of the European Aikido Federation (EAF). We raised an objection against this decision because we had had already the Aikido Federation of Russia, the successor of the Aikido Federation of the USSR, that was not yet registered. Therefore, if the "Muskovites" would enter the EAF, we must be received also. It must be said that no congress participants from the former republics of the USSR made any statements about entering into the EAF. The Congress refrained from taking any decisions concerning Russia, whereas Fujita sensei was charged with the commission to arrange the joint meeting of both Russian organization, in order to attain reconciliation.


On the other day this meeting occurred. There I saw how keen and skilful was Fujita sensei in handling negotiations and carrying on various meetings. To a large extent through his mediation in the negotiations, we decided to maintain the status quo that did not impede the normal development of Aikido in Russia, within the framework of existing federations.

It must be noted that for a long time I thought Fujita sensei to be rather a high-rank, highly successful official, but not a trainer, until I watched him for the first time to carry on training session. He turned out to be a brilliant trainer knowing how to be well understood. Further on I got informed that Fujita sensei was giving theoretical lessons as well. Those who attended his lectures, admired his ability to teach many things, for the more complete understanding of Aikido they could not found anywhere else.


To be continued...